Life is a never ending dream; each individual has a private space, personal thoughts of which others are oblivious of; unless we share them. We share our thoughts and feelings through our gestures, postures, facial expressions and especially through our eyes. We also express them in words both by speaking and writing. THE LOUNGE is a short film by Harish Masand Productions where each and every mode of expression is used with masterly strokes. Even if this is the first film of the production company, the founder comes with a bag full of experience in the field of audio-visual communication. Harish Masand is the producer director and also the original story writer, screenplay and dialogue writer. An individual wearing so many hats needs some introduction before I start talking about the film itself.
Harish Masand is based in Vancouver British Columbia, Canada. A collection of his short stories titled "HARF ADHURE", meaning incomplete words was released a few years ago. He received many awards and accolades for his first book. The film THE LOUNGE is based on one of the short stories; Geetanjali written in 1995. He continues writing short stories, screenplays and poetry besides making films and is an advocate of local artists and art forms, primarily amongst South Asian Diaspora.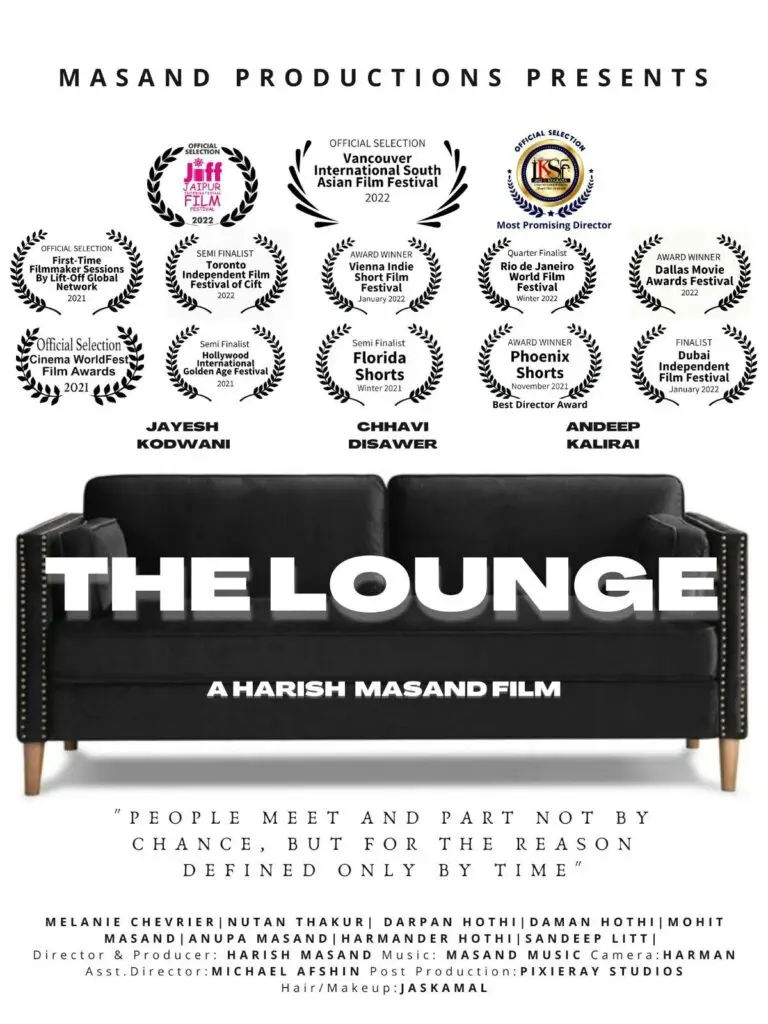 "THE LOUNGE" entered 14 different film festivals and won many accolades. Harish's background in Radio broadcasting and theatre acting helped him make his directorial debut featuring local actors in Surrey. The film was also all shot in Surrey itself.
A banker by profession Harish Masand, wears the hat of a reative artist, feeding the imagination of the viewers, taking them places and making dreams come true. The story revolves three individuals, who studied together in a college, about true love, infatuations and attractions, about marriage and falling apart. All hues of love, all emotions about love; made for each other, not meant for each other – – – et cetera et cetera.
The individual characters of Ajay Mann, Hemant Kaul, Geeta and others have been brought up to depict the environment of college goers beautifully. It would be difficult to comment individually on the performance of each and every character, all I need to say is that every character appearing on the scene acted naturally be it short presences like that of Rama Auntie's Lodge owner, or the two professors or students sitting in the class or on the trip.
Gautam Masand; the music composer who also did the background score of the film has made an important contribution to the film. Ajay's excitement, Geeta's ghazal rendition, Hemant's jealousy are all complemented by the artistic music provided by Gutam Masand. Cinematographer Harman Sekhon has worked very hard in depicting nature. The mood of the film, the scenic beauty all merge with the falling and ebbing feelings of Ajay. Geeta's sitting on the rock writing something, ducks floating behind her and Ajay admiring her from afar is the high point of the story. Then she suddenly poses him a question: as to where he was lost? The chirping of birds is symbolic of beauty and attraction of life. Life goes on as it must with all surprises popping up here and there. One surprise was Anjana's call to Ajay after a gap of three years.
The turning point of the film THE LOUNGE unfolds in the airport lounge. Just a compulsory waiting, due to unavoidable circumstances of the airlines, changed the whole life of Ajay. Allan Fakir's and Faiz Ahmed Faiz's poetry comes in handy for the seasoned writer Harish Masand to accentuate the whole mood of the film. Michael Afshin the Assistant Director and the Assistant Editor of the film comes out to be a dedicated and talented individual. Any creative production is basically the brainchild of one individual but to present it in a form a group of people is needed to work in tandem.
So, Harish Masand and his whole team deserve appreciation. The hard work and devotion is rightfully awarded and recognized. THE LOUNGE has been included in 14 film festivals the world over and awarded in some. This speaks volumes about the film.
Movie review written By:
Prof. Shaheena (Sarosh) Khan
Broadcaster, writer and poet from India.
---
This movie is being screened in Surrey tomorrow (Friday, November 11, 2022) at 4PM. Please book your show online.