We are fortunate to live in this land of plenty and make our lives better, live our dream of having access to good and nutritious food, fashionable and seasonally appropriate clothing, & comfortable and often luxurious homes. While we are grateful for this GOOD Life, we are also aware of poverty and homelessness that deprives not tens or hundreds but scores of people of very basics of life like food, clothing and shelter.
While we may enjoy the cornucopia of food here in Thanksgiving, Diwali, Christmas and on other occasions, we can't turn blind eye to the fact that hunger kills more people each year than AIDS, malaria and terrorism combined. The humanity in our hearts and the sensitivity to the fact the hundreds of children sleep hungry or even die of hunger in our own native country, India moves us and we often want to do something, give back, contribute, become a means of change, no matter however big or small our contribution may be. There's a Will in most of the Indian Diaspora to give back to India but we often get confused about the Way, about HOW do I give back to India. How do I try my best to make
sure that maximum people in India sleep with a full stomach and with clothes on their bodies. We want to give back, and we are in search of trustworthy people or organization that will not manipulate money, those who will honestly utilize the money for its said purpose.
Today after watching an interview between Mr. Neeraj Kumar and Mrs. Preeti Juthani I can confidently concur that here we have information of one of the most trustworthy organisation called Robinhood Army that can guide us in proper channel for our charities for the people of our native land, India.
Mrs.Preeti Juthani has been actively giving out used or old clothes and shoes to the homeless people in Canada for over a decade. The desire in her for giving and helping the needy has always been strong and her visit to India in December 2021 brought her face to face with the challenges of seeing hundreds of hungry and under clothed, barefoot people no matter whichever cities she visited ( Chennai and /or Mumbai) The hunger pangs in the children and their families, the people shivering with cold and not having even a proper roof over their head, the lack of access to the right of education, the overall unfortunate circumstances of the underprivileged moved her so much that she decided to do something about it, to reach to the right people who could hep her help others. That's when Preeti came in contact with Robinhood Army, a charitable organisation that has been actively working to eradicate hunger since its inception on August 26, 2014. Robinhood Army has been collecting left over food from restaurants, weddings, parties, etc. and distributing it in slums and among the hungry. Since my aunt has been extremely active with Robinhood Army in Nasik chapter, this name was not new to me. Upon reading more I came to know that its founders Mr. Neel Ghose and Sanchit Jain have inspired thousands of people to work together to eradicate hunger all over India and now this organisation that took roots in Delhi has spread branches not only in India but to 10 more countries all over the world with being active in 401 cities with approximately 209,500 volunteers or "Robins" as they call themselves.
As mentioned, Preeti Juthani has been helping with used clothes and shoes donations in Canada for a long time. In the interview with Neeraj Kumar, she mentioned that she started thinking about sending same donations to India. She collected clothes, shoes and other supplies from her neighbourhood. Her husband and mother-in-law took 4 suitcases of 23 kgs each to Mumbai and he along with the volunteers of Robinhood Army distributed the clothes to children in one of the suburbs of Mumbai and realise that even that approximately 100 kgs of those clothes and supplies was not enough. That's when she started thinking that HOW can she send more clothes and supplies to people in need. The shipping cost for one
box of clothes comes to $250, approximately $1000 for 100 kgs, and that exclude the Duty Charge of Rs. 5000 per box at the receiving end, this makes donating old clothes an expensive affair.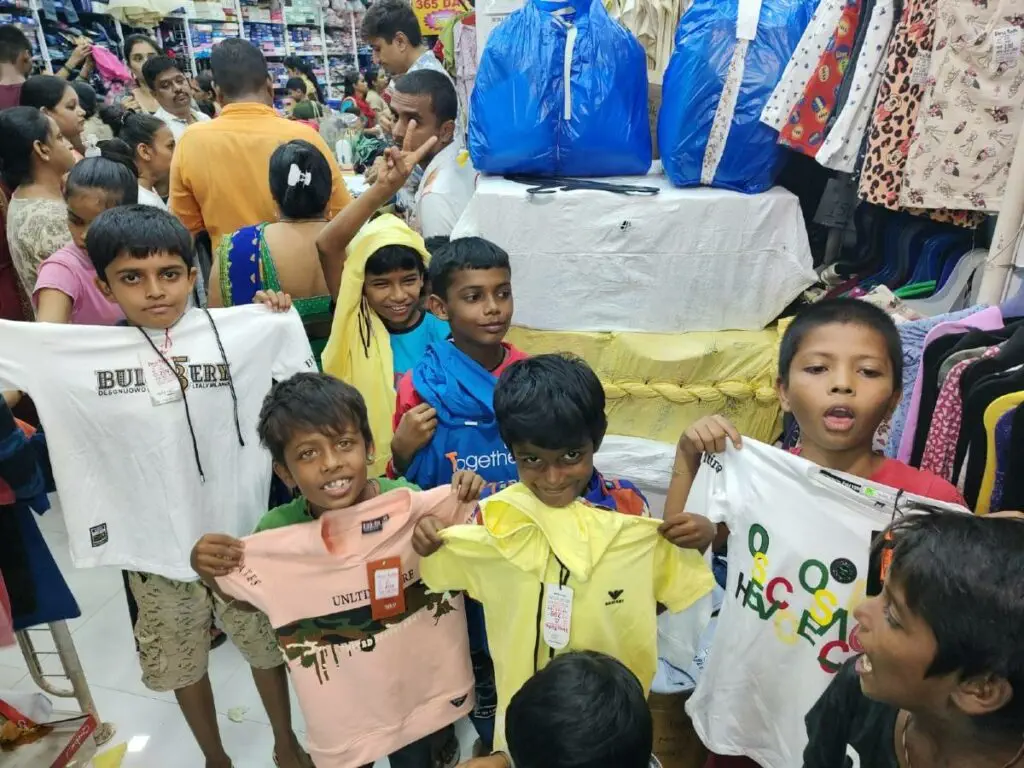 Through this interview Preeti Juthani urges the people of Indian Diaspora to come forward to volunteer to carry an amount of old clothes that you can carry with you, it can be 5kgs, 10 kgs or you can get paid extra $100 to carry a full box of 23kgs. After you take or send the donations to India, you don't have to do anything, the volunteers or the "robins" themselves will take those supplies form you home or your preferred location and distribute among the needy. In this interview, Mr. Neeraj Kumar also urged that people can volunteer to pay $100 for one box of 23kgs of clothes if they are ok with these donations and looking to make any contribution for helping the needy.
Mrs. Juthani also urged that people can offer to send donations either directly to the vendors chosen by Robinhood Army for any upcoming projects or e-transferring the donations to her. These Vendors are appointed and selected by Robinhood Army. When asked by Neeraj Kumar as to why only these specific vendors, Preeti replied saying that vendors are doing a marvellous job of providing supplies in extremely minimal cost, hence also contributing how much ever they can in this noble cause. She gave an example that when she was contributing to make donations for Sanitary Napkins, a packet of Sanitary Pads that would cost over Rs. 100 coast her only Rs. 35 through these specific vendors.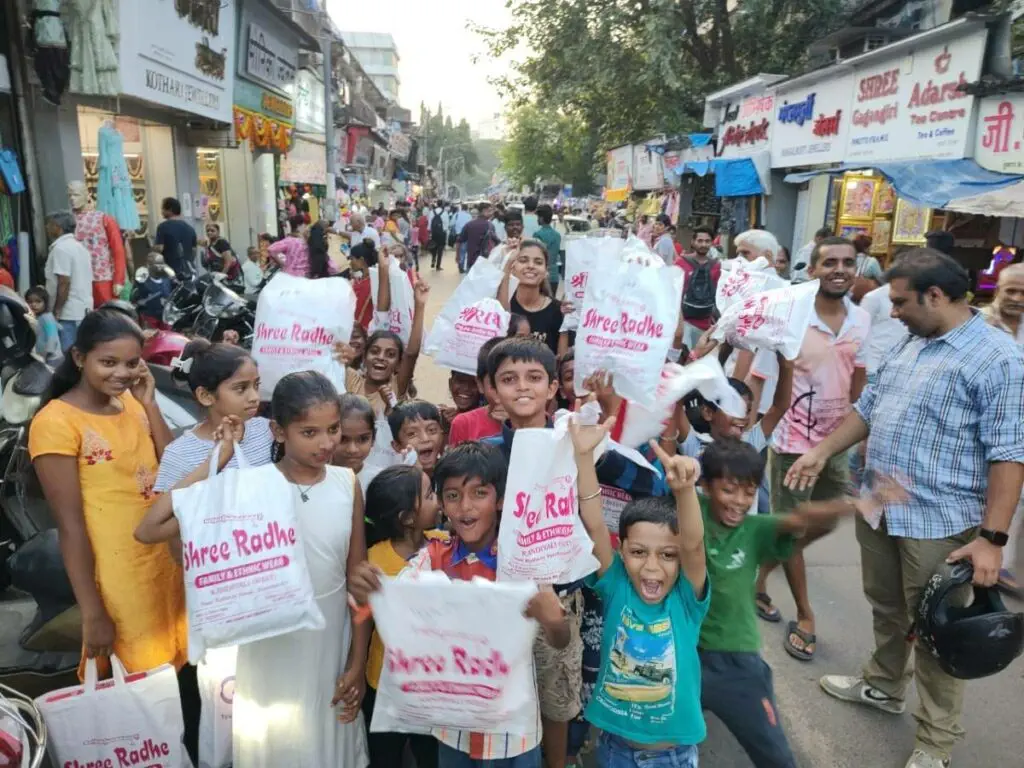 Mrs. Preeti Juthani explained that what started as an initiative to curb hunger has expanded to distributing school supplies, engaging Eye Check up clinics, conducting cataract surgeries, teaching basic hygiene and distributing hygiene supplies, even tutoring children in slums when schools were close due to COVID-19, Diwali diyas and sweets distribution, etc. I was awed and amazed to listen her talk. She suggested that you can celebrate your special days like birthdays or anniversaries by sponsoring meals for 160 children by donating just Rs.9000 which is approximately $150 CAD. The best part of this entire process is that Robinhood Army directly doesn't accept money. The money does not circulate among the volunteers hence it cuts out any possibility of manipulation or embezzlement. You can directly contact the vendors and pay them.
It does not matter whether you want to contribute for hunger eradication, or for giving clothes to the needy, or for educational supplies, or for eye surgeries, or seeing happy children with laddoos on Diwali or gujiyas on Holi, now you can make any of these or all of these possible by sending your significant contributions, no matter how little or big, by reaching out to one trustworthy organisation- The Robinhood Army, it truly lives upto the name of the great Robinhood who helped the needy and poor by taking from the affluent. I think that's why this name was chosen for this charity.
Let's Give Back to India, our native country in an easy, trustworthy way. Let's support Robinhood Army and it's incredible endeavour to help eliminate Hunger. Connect with Preeti Juthani who is local in Vancouver, BC, Canada and see how you can also assist the needy ones in the city of that you originally come from in India.
Mrs. Preeti Juthani can be contacted by email [email protected] or phone +1-604-318-7520.